For most of 90's, Food Delivery was limited to Pizza and the local Chinese restaurants delivering their own food in small areas. Delivery was never looked at as a profit center but just another way to boost sales for individual locations.
From Mid 2000's onwards, we started to see new businesses such as Grubhub, Doordash and Uber Eats (Specialty Delivery Companies or Apps) that were focused on delivering food prepared by others. Their general Business model was based on: a) getting discounts (which the delivery companies keep) from Restaurants whose food was being delivered and b) charging the end customer a delivery fees for the ease and convenience of getting food delivered from multiple restaurants using one simple mobile app. Restaurants did not have to hire drivers or keep a delivery fleet as these delivery companies pick up the food and deliver to customers.
There is a third segment of software companies which essentially provide software and technology to enable restaurants to accept online orders and manage delivery directly or thru one or more Delivery apps.
Thanks to all the ad spend, technology advancements and changing habits of the younger customers, Food delivery business is definitely growing in $ volume. Are restaurants getting more business on a net basis? or are they getting more delivery business at the expense of their dine-in customers? Who is making money in the delivery business? Is it a passing fad or is it here to stay? I probably can't answer all of these questions accurately as each restaurant's and segments situation is different but this post is an attempt to sort thru different pieces written by industry experts and summarizing the most compelling points in front of our readers.
Let's start by looking at what the recent media posts have been saying…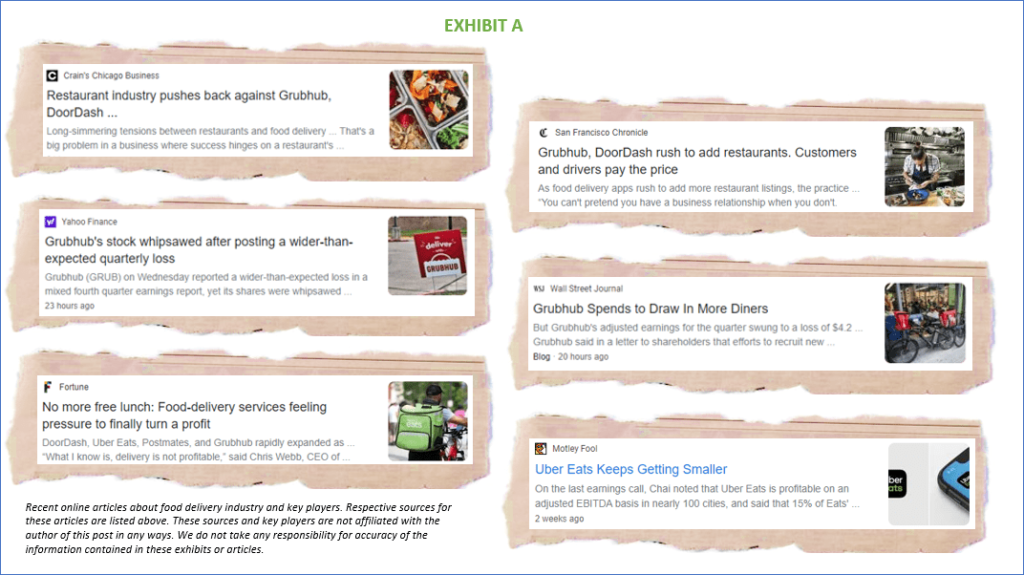 If you look thru last ~ 15 years of developments in Food Delivery Industry including the recent buzz here are the key findings:
To start off, specialty Food delivery companies piloted in one large urban market – refined their technology and processes and then expanded to other urban markets.
More delivery companies came into existence and built their sweet spots either in certain metro areas or breadth and number of restaurants they signed up.
Most of these companies raised enough money to build their brand names and hire large marketing teams which were aggressively signing-up restaurants.
Demographic developments including increase in the number of tech-savvy younger customers as well as economic growth contributed to growth of food delivery segment at a faster rate than overall restaurant industry.
Uber Eats entered Food Delivery space with a significant advantage i.e. an existing network of drivers, end consumers as well as solid brand recognition.
Increased competition has contributed to aggressive tactics to sign up new restaurants including adding restaurant's to delivery apps without contract or permission. On Diner side – free delivery, variety of coupons are very popular.
Delivery companies are using their brand and clout to negotiate fees as high as 30% from partner restaurants.
Tight Labor Market and Strength of economy along with multiple 'gig' options generally available to delivery crew is also making it hard and expensive for food delivery companies to hire and retain reliable people.
So, who is making money in the food delivery industry?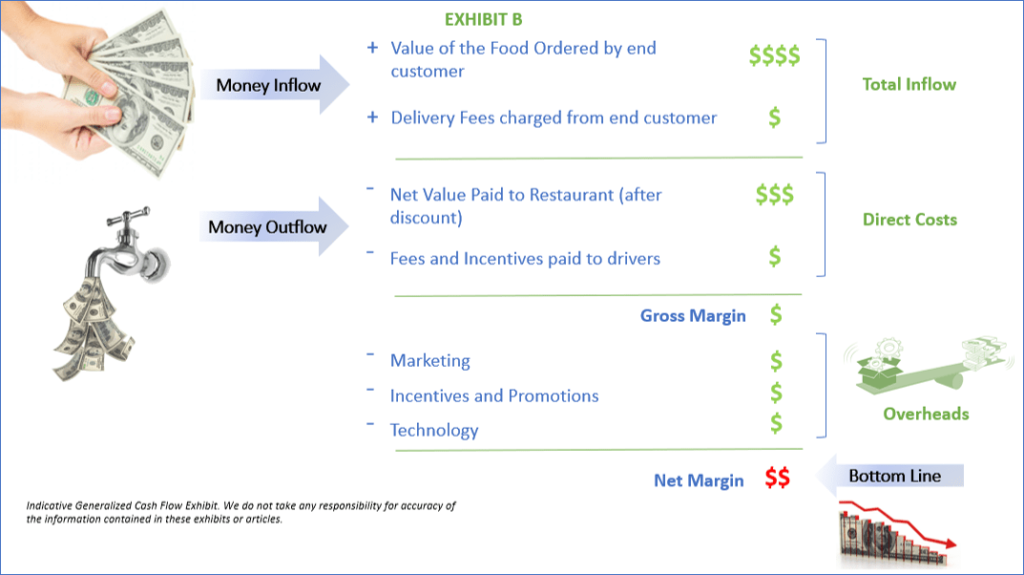 What is the bottom line for Restaurants?
Restaurants are seeing some volume growth due to these new delivery options but have to pay significant fees to delivery companies.
Some Delivery customers are trying new restaurants, they would not have visited otherwise but, Delivery segment is limiting the growth of Dine-In and Direct Pick Up segments.
End Customers have many delivery options these days, specially, in Urban areas and can also benefit from several promotions which delivery companies frequently offer.
Delivery companies offer technology features which are very expensive to be offered by individual restaurants directly. Examples include: Real Time Tracking, Collaborative Ordering, Ability to order from thousands of partner restaurants using the same delivery app.
Despite the volume growth, high commissions – delivery companies are struggling to make money.
What is the long-term suggestion for Restaurants?
Based on everything we have seen, read and heard – Food delivery is likely to grow but will continue to evolve as large delivery companies try harder to make profits. Reduction in promotions offered to end customers, minimum order $ values, consolidation among major delivery companies etc. is likely to happen. Restaurants should continue to offer delivery option thru these specialty delivery apps but should closely monitor their business, trends, patterns etc. and plan their operations accordingly.
Restaurants should identify the top 1 or 2 delivery apps which have the best service and processes in the respective market and stick with them Versus offering delivery through all of the Delivery companies / apps. Restaurants can and should negotiate fees and other terms with delivery companies.
We would love to hear your experiences and thoughts in the comments below!